Who Has the Highest TikTok Followers and How To Achieve Celebrity Status on TikTok
There used to be a time when you had to do crazy, death-defying stunts to enjoy just 5 minutes of fame. These days, you can go viral globally and enjoy celebrity status for longer than 5 minutes if you nail a unique interpretation of a dance trend and post your video on TikTok! And we're not talking about one-hit wonders, although there are plenty of those on social media. TikTok has made it possible for regular folks to realize their dream of becoming famous and even earning big bucks from it! Who has the highest TikTok followers, and how can you achieve TikTok stardom as they did?
Why Is TikTok So Popular?
What makes TikTok so popular in the first place? After all, you can't be a legitimate celebrity without hundreds of thousands or even tens of millions of people knowing your name and having their eyes on you. TikTok celebrities are made because TikTok is hugely popular. With over 1 billion monthly active users, it's easy to understand how it's possible to become an overnight celebrity on the platform — for starters, and then conquering other social media platforms out there is often inevitable!
Tiktok's Official Account Has the 8th-highest TikTok Followers
A recent Nielsen survey of over 8,000 respondents sought to understand why more than a billion people are using TikTok every month. Here's what they discovered and the reasons why TikTok's official account is among the 10 accounts with the highest TikTok followers to date.
Authenticity. More than half of respondents said that they perceived TikTok as "authentic, genuine, unfiltered, and trendsetting" and that they, themselves, felt that they could show their authenticity on the platform. According to 64% of users, they're confident to show their true selves on TikTok; 56% say they can post videos they wouldn't post elsewhere; and 53% say they trust others to be their real selves on the platform.
A source of joy. About 31% of users say that using TikTok "lifts" their spirits, and they keep coming back because TikTok brings them joy.
Unique content. Around 79% of respondents say content on TikTok is often unique or different; 68% find advertising content on TikTok to be different from any competitive platform; and 85% of users discover new content that they enjoy through TikTok.
A sense of community. The study also finds that 59% of users feel a sense of community when they are on TikTok; 77% say TikTok is a place for people to openly express themselves; and 84% say they come across content they can relate to on TikTok.
The overwhelming consensus among TikTok users, especially those who have the highest TikTok followers, is that time spent on TikTok is often enjoyable. Positivity is the dominant vibe on the platform, and users who need a good dose of positive vibes and a break from the negativity, doom, and gloom on other social media are sure to always get their fill on TikTok.
Who Has the Highest TikTok Followers?
The latest list of accounts that identifies who has the highest TikTok followers deserves a drum roll!
For the longest time, Charli D' Amelio was the reigning Queen of TikTok, but she has finally been unseated only recently by Khaby Lame — the mum comedian. The new Ruler of TikTok Land has the highest number of TikTok followers, with 142.6 million and counting; D' Amelio is a close second, with 142.3 million.
Lame is not lame at all! The Senegalese 22-year-old, who resides in Italy, launched his TikTok career in March 2020 after he got laid off due to the pandemic. Lame's short-form comedic videos leveraged TikTok's duet feature and showed his disappointed and exasperated reactions to over-complicated "life hacks." He basically does a mime performance while spoofing absurd life hacks.
As Lame quickly rose to fame (rhyme, intended!), a campaign with the hashtag #khabytonumberone was led by TikTok celebrity Noah Glenn Carter to help him grab the top spot. Lame is now one of the biggest names (seriously, Lame rhymes with so many things!) on TikTok and many other places online, and his iconic brand of comedy has also made him one of the most well-loved creators on the platform.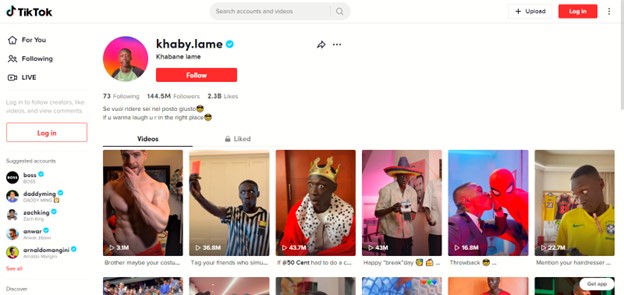 Top 30 People With the Highest TikTok Followers: The Latest List of Tiktok's Who's Who
Here's the most recent list of the most followed TikTok accounts, ranked from who has the highest TikTok followers to ones with the lowest:
Khabane ame 144.4 million
charli d'amelio 142.9 million
Bella Poarch 90.3 million
Addison Rae 88.1 million
Will Smith 72 million
Zach King 68.8 million
Kimberly Loaiza 64.5 million
TikTok 63.5 million
cznburak 59.4 million
dixie 57.4 million
Spencer X 55.1 million
Dominik 54.7 million
Loren Gray 54.5 million
The Rock 53.2 million
Jason Derulo 52.5 million
Michael Le 51.3 million
BTS 51.1 million
YZ 47.3 million
Riyaz 45.1 million
원정맨 WonJeong 45.2 million
Kris HC 44.6 million
BILLIE EILISH 44.1 million
Brent Rivera 44 million
Junya/じゅんや 42.8 million
ХОМЯК 42.3 million
JoJo Siwa 41.8 million
Selena Gomez 41.8 million
Avani 41.4 million
Kylie Jenner 41.3 million
ROD 41.3 million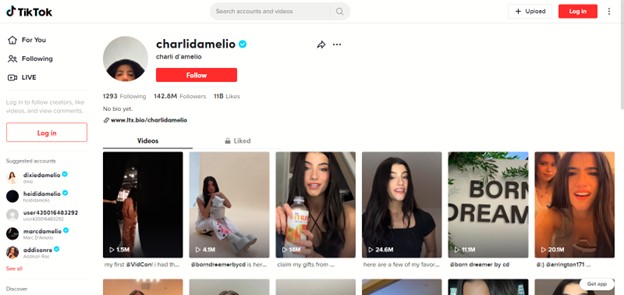 How To Come Close to Those Who Have the Highest TikTok Followers: The Making of a TikTok Celebrity
You'll need tens of millions of followers to become TikTok royalty and be among the list of who has the highest TikTok followers. The goal may be intimidating, to say the least, but there are many ways to get there. As they say, the first steps are always the hardest. Once you get the hang of the best practices of growing your audience, however, all you have to do is keep at it until you get the recognition you desire. Here are the essentials of growing your TikTok audience to gain more followers consistently.
Know your audience. What are their interests and passions? What kinds of content do they enjoy and frequently engage with? Getting to know your audience should be one of your primary goals as a creator, as the content you create should align with their interests.
Collaborate with other TikTok creators. Remember that TikTok is primarily a community for creators. Collaborating with creators within the same subculture as yours will help you reach a wider audience and get you on your way to having an impressively high number of TikTok followers. Make sure you and your collaborators share similar content categories and genres, video format/s, and audience sizes.
Participate in TikTok challenges. Choose trending hashtag challenges within your niche or at least those that are related to your brand. Knowing how to do challenges on TikTok will increase your discoverability, expose you to more viewers, and give you more opportunities to engage with your community and audiences.
Post videos regularly. Just as important as posting regularly is knowing the best times to post on TikTok to ensure that you'll reach your target audience. Posting between 3 and 5 videos per week is highly recommended.
Promote your TikTok outside TikTok. Use your other social media pages to promote your TikTok videos and gain more views, engagement, and followers.
Do You Have What It Takes To Become a TikTok Celebrity?
You don't have to be among the top 30 or 50 personalities who have highest TikTok followers to become a TikTok celebrity. But if that's your goal, then go for it! You can also be a celebrity within your niche, community, or subculture. However big your TikTok goals are, you can achieve them one milestone at a time.
Growing your follower base on TikTok will not be an easy feat; the competition is fierce, to say the least. You can team up with an expert in TikTok growth strategy, a company like High Social, to have advanced audience target capability — which will ensure that you'll find and gain followers that are the perfect match for your brand. High Social's in-house team of social media specialists will also help you get your content in front of the right audience so you'll always receive quality engagement. Start growing your TikTok today!