Editing Apps for TikTok: Advance to the Next Level
Many mobile video editing apps for TikTok available today can go toe to toe with sophisticated desktop editing software. You can conveniently create TikTok video magic from your phone with the help of these impressive apps. Use a template-based app to make basic adjustments and get polished results. Choose an app with more advanced tools to have more editing control and perform intricate changes. Some apps offer free versions if you're unsure what to pick. Check out our top picks for the best video editing apps for different devices.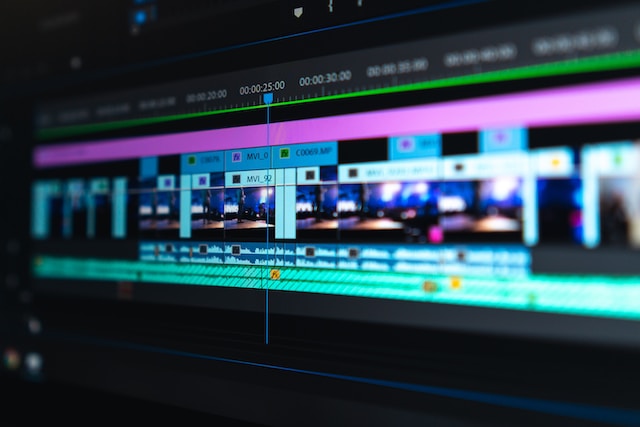 Best Video Editing Apps for TikTok
Are you creating a video for a TikTok challenge, a tutorial, or an ad? These are the best video editing apps for TikTok offering first-rate features. Take note that these apps are only available via subscriptions.
Quick and Professional Editing App for TikTok: Adobe Premiere Rush
If there's one name that's always been synonymous with professional editing, it's Adobe. Adobe Express now comes with Premiere Rush. Here are Rush's premier features, which make it one of the best editing apps for TikTok.
Access tools from a mobile device or sync mobile projects to your Creative Cloud account. This allows you to complete them on a desktop or Mac using Premiere Pro.
Shoot your video straight from the app using simple or advanced mode. Advanced mode lets you adjust the aperture and focus.
Add titles, sound, and graphic overlays to your video.
Adjust lighting, color, and speed.
Use the Auto Reframe feature for TikTok's vertical output. The feature finds and appropriately crops the active area of a landscape shot.
Export your project directly to TikTok.
Rush is available for both iPhone and Android devices.
Best Editing App for TikTok With Amazing Templates and Stock Content: Canva
Editing apps for TikTok can help creators with zero to minimal design and editing experience produce high-quality videos. Canva is the best option for business owners, influencers, and content creators who want to level up their TikTok game. The app delivers many lightweight but professional editing capabilities for free. Here are some of its top features:
It has a full load of templates and stock content.
Unique editing options include stacking videos in a vertical format, adding and cropping overlays, and editing text, shapes, and borders.
Adjust basic elements, such as brightness, contrast, saturation, and sharpness.
A Canva Pro subscription allows design teams to collaborate on a project.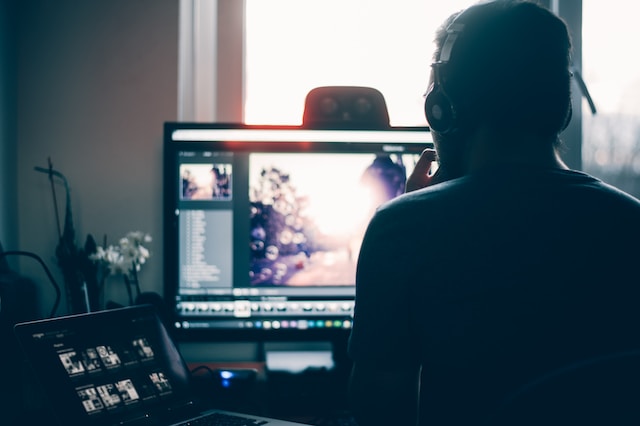 Best Mobile Editing App for GoPro Users: GoPro Quik
This is the number one editing app for TikTok videos if you're a GoPro user. But you don't have to be one to use GoPro Quik. For your GoPro video editing needs, here are the tools you can enjoy:
The Mural feature gives you a personalized wall of your most treasured media. The mural is a premium feature that serves as the GoPro Quik home screen, but you can test it for free.
Get access to 14 themes that include titles and music.
Use standard editing tools like Contrast, Exposure, Highlights, Shadows, Temperature, and Vibrance.
Enjoy a selection of 47 unique filters.
Apply speed-up or slow-down effects.
Free Editing Apps for TikTok
Do you want to get more followers and views for your TikTok videos? Try these free editing apps for TikTok if you're not ready to commit to a paid subscription. These options won't disappoint! You'll find them extremely handy whenever you need to complete basic video edits or more detailed adjustments.
Video Editing App With the Best Effects: CapCut
Owned by TikTok creator ByteDance, CapCut is free to create, edit, and share TikTok videos. If you enjoy adding fascinating effects to your videos, this is one of the best editing apps for TikTok. CapCut lets you do the following and more!
Add background music and effects.
Split clips, add text, and remove backgrounds.
Use overlays with transparency and transitions.
Apply motion tracking and face and body effects.
Share your finished product directly to TikTok.
Best Heavyweight Mobile Video Editing App for TikTok: Cyberlink PowerDirector
This editing app for TikTok delivers fully-powered mobile video editing tools. Check out the free features you can access from PowerDirector's mobile version. Take note that the free version includes a watermark on your finished project. A subscription will give you access to Getty iStock, Pixabay, and Shutterstock stock footage. Or you can undertake video challenges to score premium features.
Use the Fit & Fill tool to reformat a horizontal video layout into a vertical format and vice versa.
Add flat or animated titles.
Add a soundtrack to your video project.
Apply overlays with transparency, chroma key, and keyframes.
Add a video intro from a wide selection of templates.
Include auto-captioning.
Use the advanced crop tool and adjustment layer effects.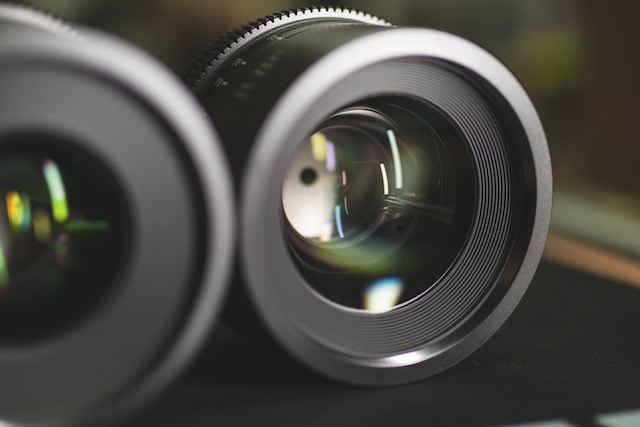 Best Editing App for TikTok Video Stitching: InShot
InShot's free version is already chockfull of both standard and advanced video editing features. Especially if you need to split and stitch video clips, this should be your go-to editing app for TikTok. If you don't mind the ads and watermark, you can use the free version. Or sign up for one of its affordable subscriptions to access additional effects and stickers.
These are some of the things you can do with InShot:
Get tips on splitting and trimming clips, swapping clip positions, and using the zoom-in effect.
Add and position stickers and text overlays.
Use keyframe editing to animate effects.
Apply picture-in-picture or freeze-frame effect.
Use masking, cropping, and speed-changing tools.
Select from a wide variety of transition styles.
Add background music.
Best Template-based Video Editing App for TikTok: Vimeo Create
If you prefer using templates when editing your videos for TikTok, you can always go right with Vimeo Create. Vimeo is a popular video-hosting service among video professionals. The company's mobile video editing app, Vimeo Create, is among the top video editing apps for TikTok marketers looking for easy-to-use, template-based tools.
"With Vimeo Create, you'll make stunning videos that look like they took hours (but only took minutes). It's easy and intuitive to build, edit, customize, and share — all from one place." Note that some templates and an excellent library of stock videos and music are only available with a Pro account subscription. Some of the templates you can choose from include:
Promo videos
Tutorial videos
Training videos
Intro videos
Fashion and beauty videos
Event videos
E-commerce videos
Slideshow videos
Teaser videos
Birthday videos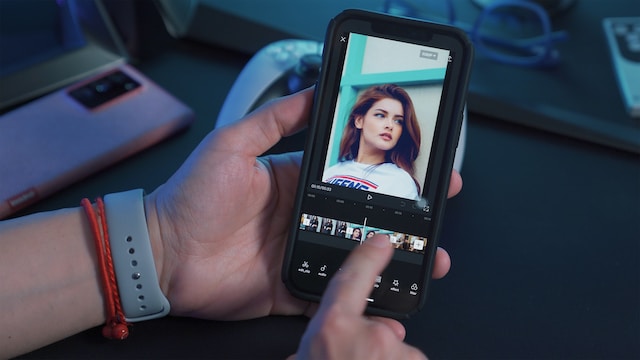 Best TikTok Editing Apps for iPhone With Free Access
You can create the next trending TikTok challenge or a how-to video that's a sure hit with the help of advanced editing tools. Here are two of the best TikTok editing apps for iPhone with free access.
Apple iMovie Editing App for TikTok
What can you do for free using the Apple iMovie editing app for TikTok videos?
Perform standard video joining and trimming.
Use greenscreen or Chroma key compositing.
Alter and adjust video speeds.
Select from Trailers templates, which include the unique Storyboards and Magic Movie features. Storyboards offer pre-made templates for popular types of videos shared on social. Magic Movie "instantly creates a polished video from the clips and photos a user selects, automatically adding transitions, effects, and music to the edit."
BeeCut Video Editing App
BeeCut is an easy-to-use editing app for TikTok videos, perfect for beginners. Available tools include:
Trim and Cut tools allow you to quickly trim and reduce your videos to focus on perfect moments.
Split and Combine tools let you split a video into clips and merge different parts to create a longer video.
Multiple Timeline Layers allow you to drag media into timeline layers, including video, audio, text, and filters.
Custom video intros, text overlay styles, and subtitles can be adjusted and positioned anywhere.
Speech-recognition technology converts video speech to text or vice versa in one click.
Best TikTok Editing App for PC
Get more TikTok followers and build an engaged and loyal community with visually impressive videos. Editing your TikTok videos on a PC will give you better control than doing it on the smaller user interface of a mobile phone. Here are a few of the best TikTok editing apps for PC — for both Windows and Mac OS.
Adobe Premiere Pro Online Editing App for TikTok
As the leading video editing software, Adobe Premiere Pro will consistently deliver videos that are a cut above the rest. Did you know that the multiple Oscar winner, Everything Everywhere All At Once movie used Premiere Pro for editing?
You don't need a team of video professionals to use this editing app for your TikTok videos. Premiere Pro offers tutorials and easy-to-follow how-tos to help you tackle any project.
Premiere Pro offers free tools, including transitions, templates, and animated titles to level up your TikTok content. A Pro account subscription gives you access to industry-standard tools, which include:
Precise video trimming
Animated motion graphics. You can use templates or create your animated effects.
Audio editing and syncing and sound effects.
Professional color adjustment tools.
Wondershare Filmora Video Editing App for TikTok
Wondershare Filmora offers editing, audio, effects, and color tools to help you produce high-quality videos for TikTok. With a library containing more than 500 tutorials, it's one of the most widely used editing apps for TikTok. Here are some of the features you can enjoy:
Editing features include Split Screen, Auto Reframe, Batch Edit, Keyframing, Title Editing, Quick Split Mode, Motion Tracking, and Adjustment Layer.
Audio features include Audio Ducking, Text Speech, Speech Text, Silence Detection, Auto Synchronization, and AI Audio Denoise.
Effects features include Video Effects, Green Screen, Mask & Blend, Remove Video Background, and NewBlue FX.
Color features include Color Match and Color Correction.
LightMV Editing App for TikTok Videos
LightMV is a template-based video editing app for TikTok. It's a quick and easy-to-use online video maker and editor that can help you complete a project in minutes. Video templates include:
Animation videos
Wedding videos
Education videos
Business videos
Intro & outro templates
Family videos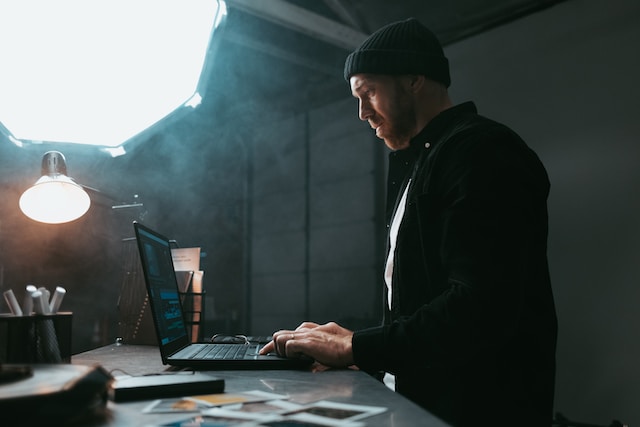 Focus On Creating Fantastic TikTok Videos and Let an Expert Find Your Audience
Creating incredible TikTok videos is one thing; reaching your audience with your content is another. With the help of the best editing apps for TikTok, you can consistently produce video content that's visually engaging and that resonates well with your community. When you put all your time, energy, and creativity into creating magnificent videos for your brand, you also want to ensure they get the views and appreciation they deserve.
When you can put your videos in front of the right audience, your TikTok videos can be your ticket to TikTok fame and success. High Social, an expert in TikTok growth management, can help you find suitable viewers for your content.
High Social uses advanced, proprietary AI technology to deliver precise audience targeting. The company will identify authentic TikTok users whose interests and history of interactions on the platform are a perfect match for your content. You will also benefit from expert guidance from High Social's team of social media specialists. They will help you generate more interest and views for your content through targeted promotion.
Let High Social fine-tune your audience-targeting strategy so you can reach genuinely interested and actively engaged users. Level up your TikTok game and get the exposure you need. Start growing your TikTok today!