Fameshop Reviews: The Verdict Is In
Fake profiles are everywhere, and they typically follow random users, businesses, and big-name creators and celebrities. It's no longer surprising to find out that a popular account has fake followers. But when you look at somebody's high follower numbers, your immediate reaction is still, "That's impressive!" If you need to look good to the public, should you avail of a TikTok growth service? If you're looking for one, you may have encountered Fameshop. What do Fameshop reviews reveal about the service? Keep reading to find out.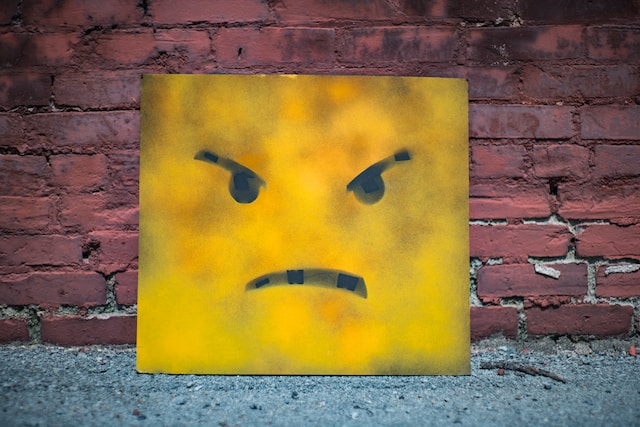 What Is Fameshop?
Before we jump into Fameshop reviews, let's have a look at what Fameshop is and how it works.
Fameshop is a growth service that exclusively caters to TikTok users. You can buy TikTok followers, likes, views, and shares. Here's how it works:
Choose the service you need.
Enter your TikTok username.
Select a package. If you're buying TikTok likes, views, or shares, the site will also prompt you to choose one or more videos to promote.
Tap Add to Basket and select another service and package, or tap Buy Now.
Complete your payment and wait for delivery.
You need a public profile to avail yourself of any of these services. The process of purchasing is straightforward enough. You can pay with a credit/debit card or via various crypto payment options. The site doesn't ask for your password; it has the padlock icon in the URL, indicating that it's secure.
Whichever service you choose, you will only be getting numbers. These numbers don't represent real users. You will only be able to check out the "profiles" behind the numbers after the site delivers them. Some services offer "premium or active" profiles, which means you'll see a profile picture and some TikTok activity. More often than not, however, these paid accounts are completely inactive and obviously fishy when you visit them.
Fameshop Reviews: Package Prices
How much will boosting your number of followers, views, likes, and shares cost you? Here are Fameshop's package prices.
Follower packages are as follows:
100 followers for $3.99
250 for $6.99
500 for $10.99
1000 for $17.99
2500 for $34.99
5000 for $59.99
10K for $99.99
20Kfor $189.99
50K for $449.99
Likes packages are as follows:
100 likes for $2.49
250 for $3.99
500 for $5.89
1000 for $7.89
2500 for $12.99
5000 for $23.99
10K for $45.99
20K for $99.99
40K for $179.99
Views packages are as follows:
300 for $0.69
500 for $0.79
1000 for $1.39
2500 for $2.99
5000 for $3.89
10K for $6.79
25K for $13.99
50K for $23.99
100K for $43.99
250K for $99.99
500K for $189.99
1M for $349.99
Shares packages are as follows:
100 for $1.99
250 for $2.99
500 for $4.99
1000 for $8.49
2500 for $18.99
5K for $34.99
10K for $62.99
25K for $142.99
50K for $259.99
100K for $479.99
Compared to other vendors, Fameshop's smaller packages cost more. Quantities from 1,000 and higher for followers and likes, and quantities from 10K and higher for views are cheaper. Their TikTok share packages are all pricier.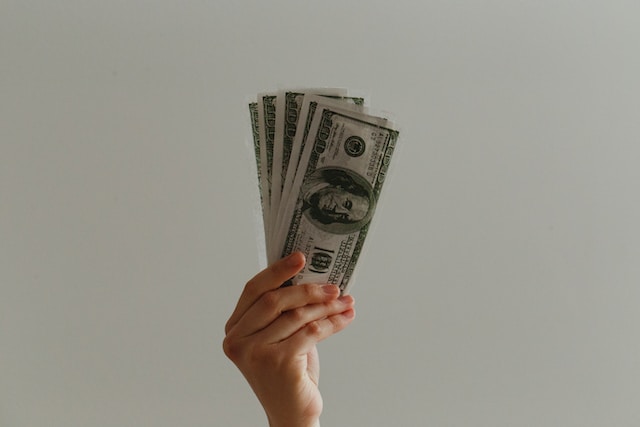 Fameshop Reviews: Service Features
Let's look at Fameshop's key features to put Fameshop reviews in their proper context.
The site boasts of the following advantages:
No password. They only require your TikTok username to deliver your ordered likes, views, followers, or shares.
Fast and safe delivery. If you don't order large quantities, you can expect to receive your purchased numbers within a few minutes. In its FAQ section, the site clarifies that they "deliver big orders part by part" to keep accounts safe. High demand or a high volume of orders for a single account often means delivery may take a few days. You may receive one service more quickly than others if you purchase different services.
Great quality. According to Fameshop, "Our system never takes a spammy step." All followers, likes, views, and shares come from "safe accounts."
Support. You can reach out for support 24/7.
Fameshop also offers free refills for any drops within one month of purchase. As for their refund policy, Fameshop's Terms of Service specify no refund and refund conditions. For example, Fameshop does not give refunds if a user enters an incorrect username or TikTok deletes the purchased numbers. They do honor refund requests for "non-delivery of service." If the order is taking too long, you can submit a refund request within three days from the order date.
Fameshop Reviews: What Customers Say According to Fameshop
Fameshop claims they have completed over 60,000 orders and delivered 300M+ likes and 20M+ followers. However, the site features only three Fameshop reviews under their Customer Testimonial section. Here's what their customers have to say:

They're all very satisfied customers! And all of them appear to have the same glowing feedback about Fameshop's customer support. However, there's no way to know if these reviews come from real people/customers. The small number of reviews and lack of negative feedback also make these customer testimonials more suspect.
Reading customer feedback is a must before purchasing from any company. Ideally, compare reviews both onsite and from trusted review platforms. Online scams are prevalent on social media, and users looking for new followers are especially vulnerable to scammers. Reading reviews can help you avoid such risks.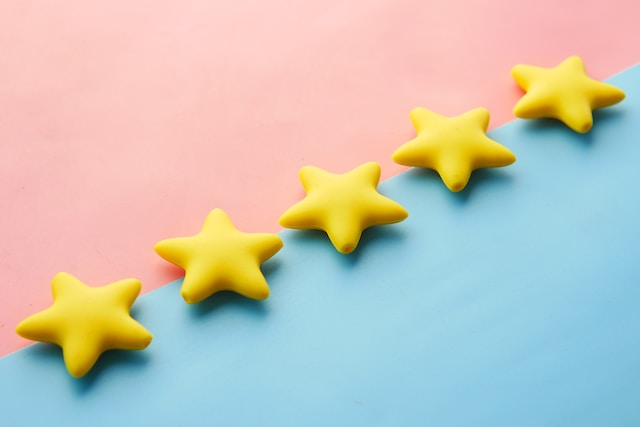 Fameshop Reviews: What Customers Say on Other Review Platforms
Unfortunately, there are no Fameshop reviews available on Trustpilot. But below are several customer reviews and website security assessments from other platforms.
Fameshop Reviews on Scamadviser
Here's an overview of Scamadviser's analysis of Fameshop:
A Trustscore of 53 out of 100 according to Scamadviser's algorithm.
A rating of 2.4 out of 5 based on 5 customer reviews.
Positive highlights are as follows:
Fameshop's payment methods allow you to get your money back.
The SSL certificate appears valid.
The domain name ownership is several years old. The website owner has registered the domain name for more than one year.
The website has been around for many years.
DNSFilter considers the website safe.
Flashstart did not find malware or phishing activities on the site.
Maltiverse has classified the website as safe.
Negative highlights are as follows:
The website's owner is using a paid service to conceal their identity on WHOIS.
The website does not have many visitors.
Spammers and scammers are using the same registrar.
Users have labeled the site as possibly fraudulent on Scamadviser.
The majority of Fameshop reviews on Scamadviser are negative.
Compared to the highly satisfied customers featured on the Fameshop website, customers posting on Scamadviser reveal another story. Here's what they have to say on Scamadviser about Fameshop's service: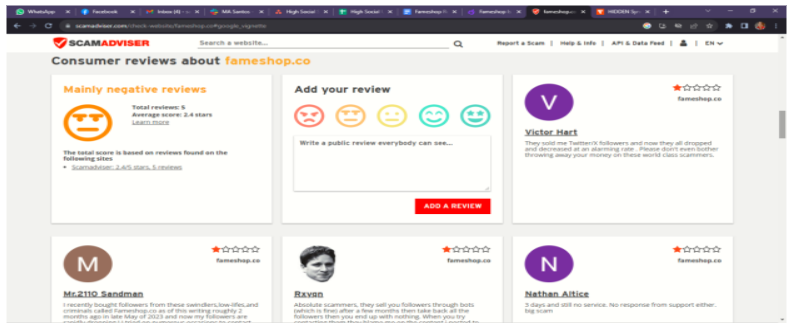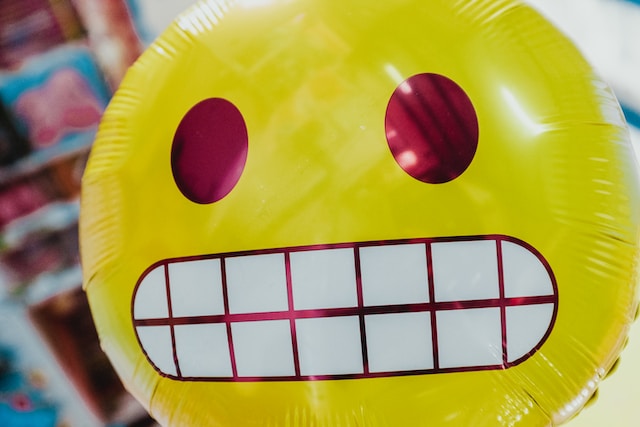 Fameshop Analysis by Scam Detector
Scam Detector's algorithm also gives Fameshop a "medium-to-low authoritative score" of 47.3 out of 100. Based on this score, these words best define the website: doubtful, perilous, and alert.
Here are the highlights of Scam Detector's analysis:
Website popularity is poor.
No blacklist engine has detected any domain blacklist status for Fameshop.
HTTPS connection is valid.
The website "has an association with sites that have been flagged as malicious." Its Proximity to Suspicious Websites score is 30 out of 100.
Fameshop Reviews: What's the Verdict?
Based on the above Fameshop reviews and site assessments, what's the verdict on its safety and credibility?
It's safe to conclude the following:
Based on the limited reviews, the service seems to be more of a risk than an advantage to TikTok users.
Considering the lack of positive reviews from trusted review platforms, the glowing feedback on the site seems inauthentic.
Available data from fraud prevention sites, as determined by their algorithms, further support the suspicious nature of the service.
Considering the pricier package options combined with the high-risk assessment, Fameshop is not the best option for such a service.
Are there advantages to using Fameshop to boost your numbers? If you're just looking for the minimal benefits of a growth service, you can find better alternatives to Fameshop. Keep in mind that buying numbers already comes with inherent risks. Using Fameshop will most likely magnify these risks and cancel out any benefits. You're more likely to get your money's worth if you spend it on similar services or promoting your TikTok posts.
Here's a quick rundown of the risks you would be taking if you chose an unreliable growth service:
You would be exposing your account to spam activities.
You would have an increased risk of TikTok detecting your paid numbers.
It's highly likely that you would see big drops in your order after your purchase.
You would not receive support from the site for any issues you may encounter.
Your account credibility would suffer.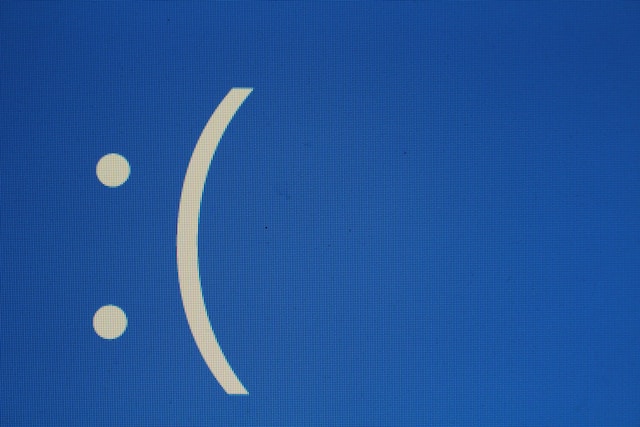 Developing a TikTok Game Plan Involving a Growth Service
If the Fameshop reviews above have made you more wary of growth services, good for you! The good news is there are other similar services that are relatively safer and more reliable. If you need to boost your numbers, you can still avail yourself of growth packages from social media services. But you need to be clever in incorporating your paid numbers into your overall growth strategy.
Here are some pointers to keep in mind:
Keep in mind that you won't get real followers when you buy numbers. Even if the site claims that the followers, views, or likes are from "high-quality accounts," you shouldn't expect much.
Never buy large quantities in a single purchase and have them all delivered instantly. Look for a site that delivers big orders in small batches or one that offers delayed deliveries.
If you want to boost your follower count, make sure you can match any increase with a decent engagement rate. Find effective ways to keep your posts busy with comments. Rally your active TikTok followers to keep your audience engagement high. 
If you're buying views, know all the ways to make them count toward real growth. Once you capture the attention of real users, make sure you have compelling content to convert them into instant followers.
When buying TikTok likes, don't get more than your number of video views. You can get more likes for videos that are already performing well to keep them active longer.
Prioritize creating optimized content for your target audiences' For You feed. Reaching genuinely interested viewers is still key to making your paid numbers work in your favor.
Key Takeaways From Fameshop Reviews
What are our key takeaways from these Fameshop reviews?
You should always read reviews about a service, especially if it's new to you. Compare customer reviews posted on the site itself and trusted review platforms.
Run a scam check on the site.
Do a manual assessment of the site. Look for the padlock icon or HTTPS in the URL to make sure the site is secure. Read the Terms of Use and pay particular attention to the service's refund policy.
You can't always trust the rave reviews that a company features on its website.
Don't take a company's guarantees at face value.
Always be wary of scam sites. Always take the necessary precautions to avoid risks to your online accounts.
You should also be aware of the pros and cons of using a growth service to boost your numbers on TikTok. Taking this shortcut to growth offers limited benefits, but you can still get your desired results with a good strategy. Know the risks so you can minimize them. Buying numbers should only be a minor ancillary tactic in your overall growth strategy.
Getting your content in front of audiences who will likely become lifelong fans should be your number one priority. TikTok's For You algorithm works sufficiently well in recommending videos to interested users. You can double your AI-powered advantage with the help of a TikTok expert like High Social.
Sign up for a High Social plan to leverage their advanced, proprietary AI tool and enhance your audience-targeting precision. If there's one important lesson to learn from Fameshop reviews, it's that you should choose a reliable growth partner. Start growing your TikTok today!