How to Promote TikTok Videos: Grow Your Audience and Get More Followers
TikTok's short-form videos are designed to be shared, and "going viral" is every TikTok creator's ultimate goal every time they make a video. There's no other joy quite like what a creator feels when they see the number counters on their video climb up and reach thousands, tens of thousands, or hundreds of thousands. You might be considering how to get followers on Tiktok — creating content that draws more views, likes, and comments lead to getting more TikTok followers. But with so many videos from the top TikTok influencers fighting for a prime spot on people's For You feeds, knowing how to Promote TikTok videos pays in more ways than one.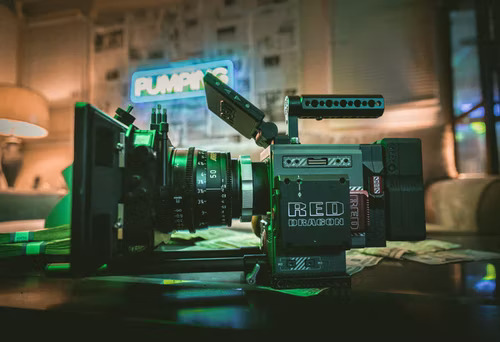 What Does "Promote" Mean On TikTok?
TikTok's Promote option is an advertising tool that the platform introduced fairly recently to allow creators to convert any organic TikTok videos into an ad directly within the app. It's the quickest and simplest ad option that offers advanced audience targeting and other options to optimize videos for greater visibility and discoverability. Asking how to promote my Tiktok is your first step to reaching more people with your stories. You will build a bigger community on the platform for your brand.

TikTok launched the Promote tool to "help businesses reach more people and grow their community with their TikTok videos." In order to reach more people, you need to ask who is the target audience for my Tiktok. Once you identify your target audience, you can use the Promote tool with your own Tiktok videos. With only a few clicks, you can convert your organic TikTok video into an ad. Now you can customize your audience targeting and reach new audiences, grow your following and engagement, and drive traffic to your website.
How Does "Promote" TikTok Videos Work?
How does Promote TikTok videos work? Here's your step-by-step guide.
Accessing Your Promote Page
You can access the Promote tool either directly from the video you want to promote or from your profile's creator settings.
Select the video you want to promote. You should start with one of your best-performing organic videos. Tap the three dots on the right, and then tap "Promote.
Alternatively, you can go to your profile and then tap "Settings." Tap "Creator tools," and then tap "Promote."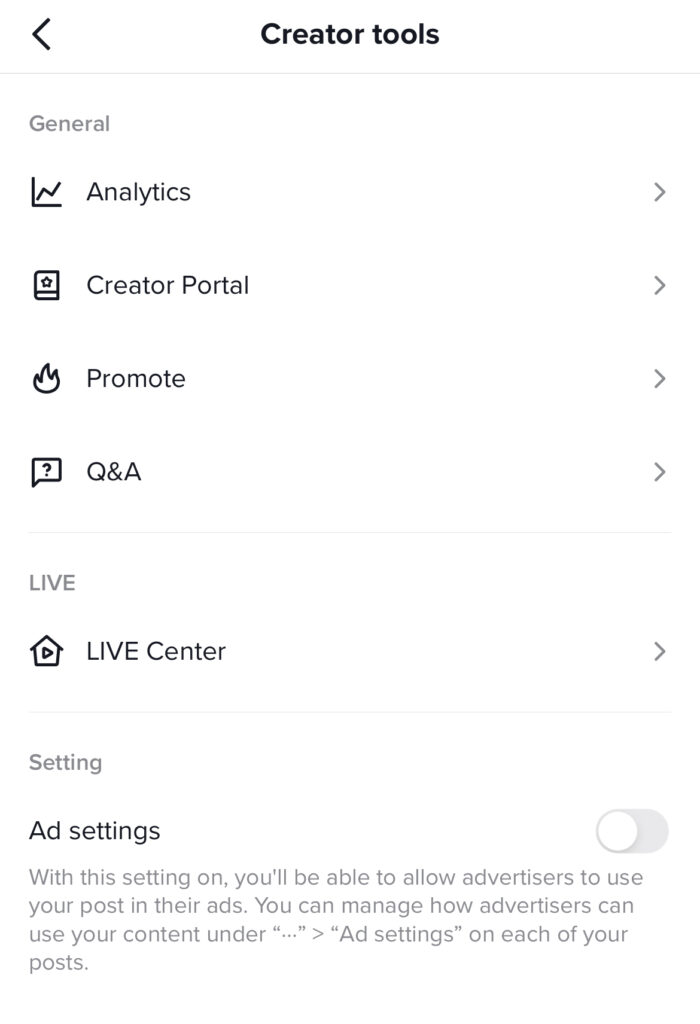 Setting Up Your Promotion
Knowing how to use Promote on TikTok involves customizing your promotion settings to optimize your mini-campaign for success. Here are the steps to set up your promotion:
Choose your promotion goal, it can be any of the following: more views, more website visits, or more followers. And then tap "Next" at the bottom. If your goal is more website views, you'll enter your website URL and select an action button (e.g., Learn More, Shop Now, or Sign Up). Tap "Save."
Choose your target audience. If you choose Automatic Audience, TikTok will choose the audience for your video; if you choose Custom Audience, you can specify the gender/s, age range/s, and interests you want to target. Tap "Next."
Set your campaign budget and duration. Tap "Next."
Complete the payment process.
Tap "Start promotion."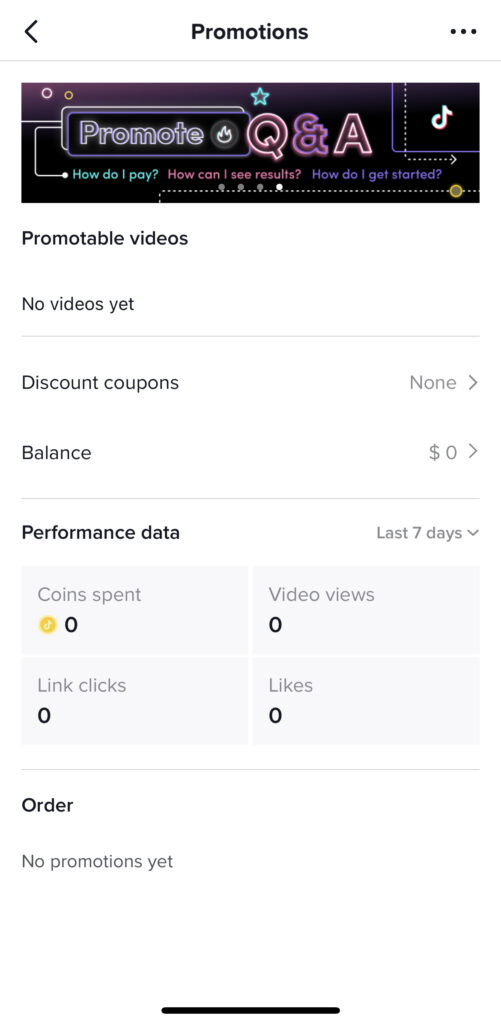 Keep Track of Your TikTok Promotion and Watch Your Numbers Grow
Knowing how to use Promote for your own TikTok videos also gives you the advantage of being able to keep track of your video's performance. Your promotion details will include:
Your promoted video's status, i.e., whether it's still pending review, approved, active, paused, or rejected.
How much you've spent and how long your promotion has been running.
Number of views.
Number of link clicks, if your goal is to drive traffic to your website.
Number of likes, comments, and shares.
Audience information, i.e., their age ranges and genders
To access your Promotion details page, just follow these steps:
Go to your profile.
Open your settings.
Tap "Creator tools," then tap "Promote."
On your Promotions page, tap "See details."
How To Cancel A Promotion On TikTok If You Need to Go Back To The Drawing Board
If you change your mind and wish to know how to cancel a promotion on TikTok, TikTok Promote Program's Terms of Use, under the section "Pausing your Promoted Content campaign," states that once the order for Promoted Content has been confirmed, it can no longer be canceled. However, the campaign can be paused after it has been launched. TikTok also has sole discretion in determining "if it is not feasible to cease the serving of the Promoted Content upon your pausing of the campaign" and you shall "remain obligated to pay all charges resulting from the served "Promoted Content."
In other words, payment for confirmed Promoted content cannot be refunded. Pausing of your campaign may also be subject to TikTok's approval.
Is TikTok's "Promote" a Free Option?
TikTok's Promote tool is not free. But you have some flexibility over how much you'll spend. You can set your campaign budget based on its duration and audience targeting specifics. Remember that once you confirm your "order" for a Promoted Content, cancellation is no longer an option and you will have to pay the full amount, as you have indicated in your campaign budget.
Is TikTok Promotion Worth It?
You can make TikTok Promotion worth the investment by making use of your Promoted Content's insights to learn more about your audience and the changes you need to make to improve your content strategy and fine-tune future campaigns and organic videos. When you Promote content, you will maximize the discoverability of your video, reach more of the right audience to gain new followers, drive more people to your website, and increase brand awareness.
To use TikTok's Promote tool, keep these things in mind:
You can only use Promote for public videos.
You can only Promote public videos that use original sounds or TikTok songs and sounds from TikTok's Commercial Sounds library.
For Android users, the cost to use Promote will be shown in your local currency during Promote setup, or rechargeable coins for iPhone users.
You must be 18 years or older.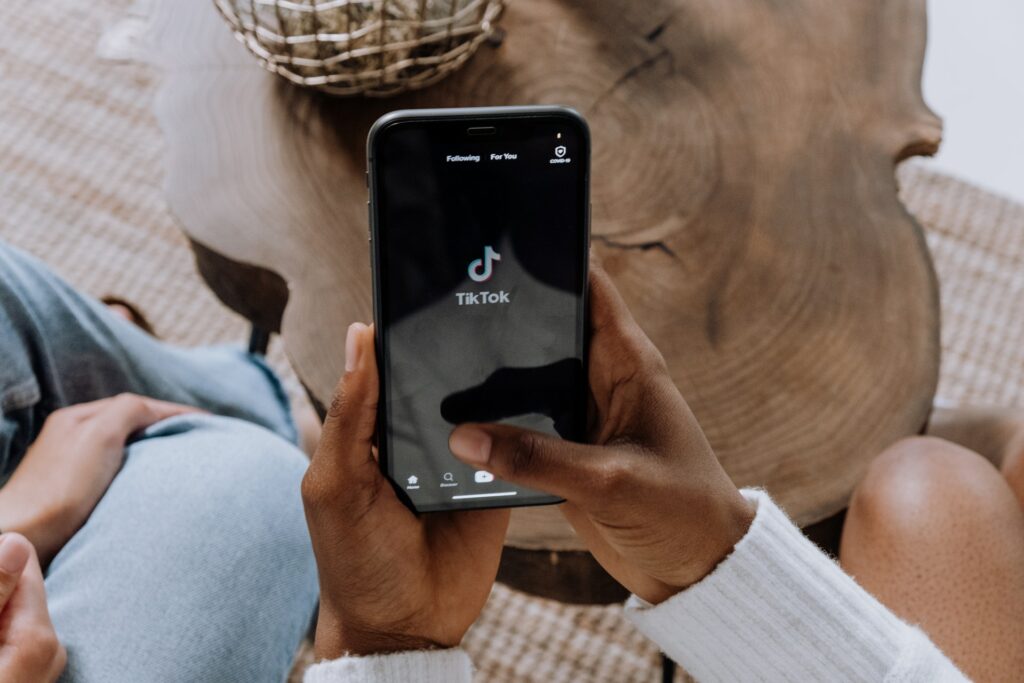 Invest Wisely for Rewarding TikTok Growth
Knowing how to Promote TikTok videos will bring you many steps closer to your TikTok goals. If you have the budget to launch a mini-campaign for your brand and wish to reach relevant audiences with your video to meet a specific goal, TikTok's Promote tool can be a worthwhile investment. The insights you can get from your Promoted Content will also help you create videos, whether organic or for new campaigns. Your videos will better resonate with your audience and deliver higher views and engagement.

Achieving lasting and rewarding growth on the TikTok app hinges on having a growth strategy. It needs to target the right audience for your content and brand and deliver sustained audience engagement. You can team up with an expert in TikTok growth strategy, such as High Social, to leverage their advanced audience targeting capability and the hard and specialized work of their in-house team of social media strategists. High Social can help accelerate your TikTok growth and build a strong presence for your brand on the platform. Start growing your TikTok today!