TikTok Trend Discovery: How To Find What's Hot on TikTok
Jumping on TikTok trends makes you more visible to your audiences and community on the platform. Following trends should play a significant role in your content strategy; connecting with your intended audience is critical. Ideally, you should hop on a trend while it's still gaining momentum, not when it's already mainstream and in full swing. Here's an essential guide to TikTok trend discovery to help you stay ahead of the curve.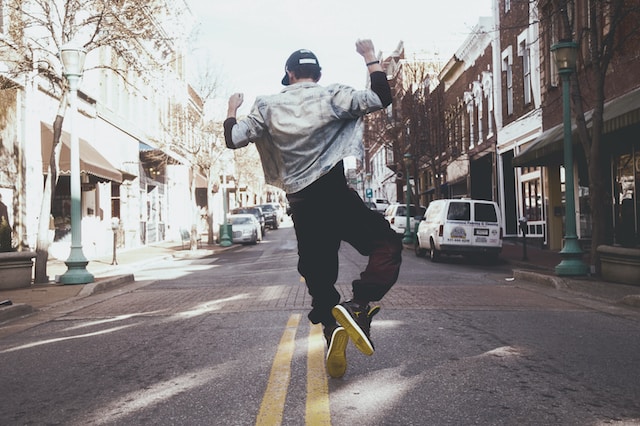 TikTok Trend Discovery Tools
You don't have to be hyper-vigilant to spot a craze-in-the-making early and quickly enough to have maximum advantage. You don't need a crystal ball to tell you what will go viral on TikTok tomorrow or next week. But you must always be ready to hop on the bandwagon while it's still gaining traction. Use TikTok trend discovery tools to help you find what's fresh and hot on the platform.
TikTok Trend Discovery via the For You Page
The For You page is the most accessible TikTok trend discovery tool. Your For You feed is the first thing you see whenever you open TikTok. It features a curated stream of videos, which TikTok recommends based on your interests to deliver a personalized experience. The For You feed recommendation system considers your preferences to gauge the value of these videos.
The system continuously learns from your engagement on the platform. When you follow new accounts and search for hashtags, sounds, effects, and topics, you help refine TikTok's For You recommendations. At the same time, TikTok also aims to "keep your For You feed interesting and varied" by diversifying recommendations. This is how you can identify emerging trends in the platform that are also relevant to your brand and community. Here's how TikTok delivers diversified recommendations:
Recommending a video that is well-received by other users who share similar interests.
Suggesting new content categories or creators based on what's popular among a broader range of audiences.
The more you engage with relevant content on TikTok, the more fine-tuned your For You feed will be. You can optimize the For You algorithm to help you spot promising new content that can help you get a head start on an up-and-coming fad.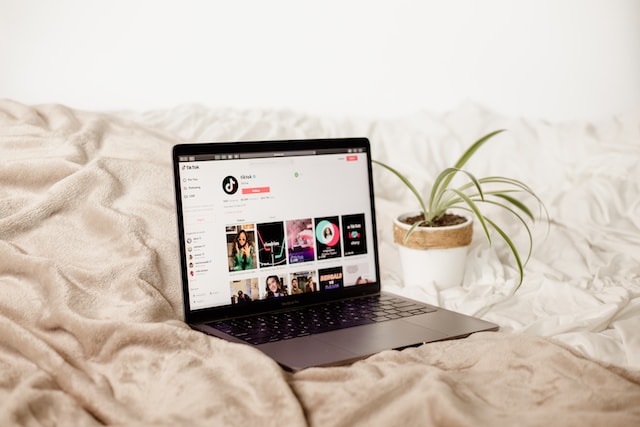 Using Search and Discover for TikTok Trend Discovery
TikTok trend discovery is also possible via the TikTok search bar, which gives you more control over what you want to discover and the relevance of the results. TikTok will show you a list of topics you may like when you tap the Search icon. You can type in any keyword, hashtag, song, location, or niche to find related videos and check how well they're doing among their respective audiences.
Be as specific as possible when doing a TikTok search. The results page will show you seven tabs: Top, Videos, Users, Sounds, Shop, LIVE, and Hashtags. The Top tab will display the most relevant results. Explore the other tabs to find more related content. The Hashtags tab will show an exact match to your search at the top and other popular hashtags related to it.
However, the Discover section allows you to search and explore trending videos, hashtags, creators, and sponsored content. To access Discover, tap the Discover icon to the right of the Home icon at the bottom. You can start browsing through trending users, sounds, and hashtags. Note that the Friends section has replaced the Discover section for some accounts.
Identifying TikTok Trends via the TikTok Creative Center
TikTok Creative Center is a free public channel offering "creative resources where you can discover the latest trends, success stories, and tools to create quality and effective TikTok ads."
For TikTok trend discovery, Creative Center's most relevant sections are Inspiration, Trends, and Top Products. Within the Inspiration section, you'll find:
Top Ads
Keyword Insights
Creative Insights
Creative Strategies
Showcases
For both the Top Ads and Keyword Insights sub-sections, you can do a general search or see top results for a specific country, industry, objective, likes percentage, or duration. You can also modify the results to cover the last seven, 30, or 180 days.
Within the Trends section, you can explore trending Hashtags, Songs, Creators, and TikTok Videos. You can specify a country for each sub-sections and see the top results for the last seven, 30, or 120 days. The Hashtags sub-section also allows you to modify your results by industry. The Songs sub-section has two categories: Popular and Breakout. You can explore the Creators sub-section by Audience Region or Followers (by numbers). The TikTok Videos sub-section allows you to sort top results by what's hot or by the number of likes, comments, or shares.
Finally, the Top Products section lets you discover winning products in a specific region and according to various product categories.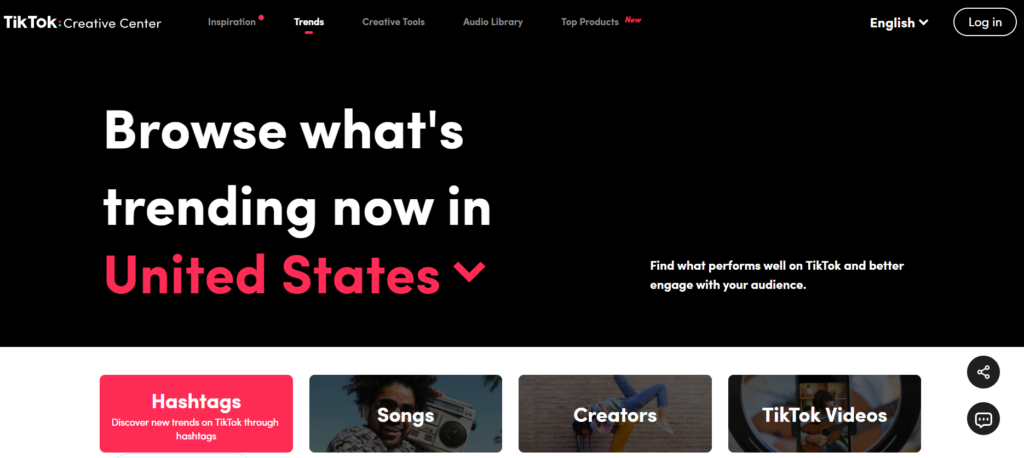 TikTok Trend Discovery Top Products
Are you curious about what products are trending on TikTok right now? Here's a list of TikTok trend discovery's top products.
TikTok Trend Discovery for Top Products in the United States
In the United States, the top products, according to the number of ad creatives featuring them in the last seven days, are as follows:
Casual Dresses with 2,000 ad creatives
Perfume, with 1,000 ad creatives
Cases, Screen Protectors, and Stickers with 1,000 ad creatives
Jeans, with 1,000 ad creatives
T-Shirts with 993 ad creatives
Bodysuits, with 980 ad creatives
Serums and Essences, with 846 ad creatives
Makeup Tools, with 749 ad creatives
Rings, with 744 ad creatives
Necklaces, with 732 ad creatives
Hair and Scalp Treatments, with 684 ad creatives
Hoodies and Jumpers, with 650 ad creatives
TikTok Trend Discovery for Top Products Worldwide
Worldwide, the top products for the last seven days, according to TikTok trend discovery via Creative Center, are below.
Perfume, 16,000 ad creatives
Serums and Essences, 12,000 ad creatives
Shampoo and Conditioner, 10,000 ad creatives
Cases, Screen Protectors, and Stickers, 9,000 ad creatives
Moisturizers and Mists, 8,000 ad creatives
Lipstick and Lip Gloss, 8,000 ad creatives
Casual Dresses, 7,000 ad creatives
T-Shirts, 7,000 ad creatives
Body Creams and Lotions, 7,000 ad creatives
Beauty Supplements, 6,000 ad creatives
Skincare Kits, 6,000 ad creatives
Acne Treatments, 6,000 ad creatives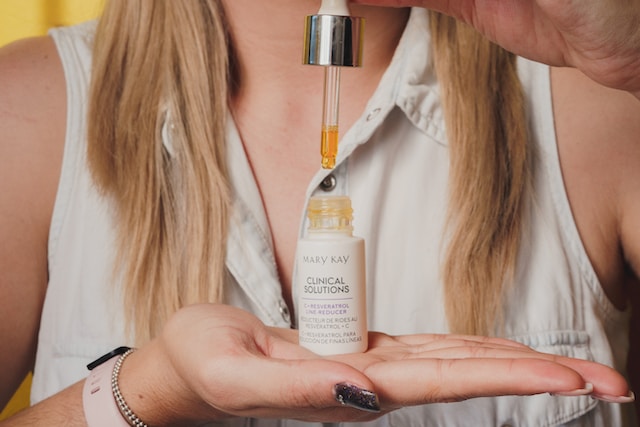 Tiktok's What's Next 2023 Report Summary
TikTok's What's Next 2023 Report predicts "three macro trend forces [that] will shape TikTok in 2023: actionable entertainment, making space for joy, and community-built ideals." Below is a summary of the full report.
TikTok Trend Discovery for 2023: Actionable Content
Actionable content is "tailor-made content [that] inspires people to take action." The full report lists three key signals for actionable entertainment and popular hashtags to try for each one.
Show, Don't Sell. This signal refers specifically to tutorials on TikTok. To optimize a tutorial for TikTok trend discovery, you can use the hashtags #Storytime and #POV.
TikTok Investigates. This signal is about building credibility and trust through truthful and fact-based information. Popular hashtags to try include #ExpectationVsReality and #FactOrCap.
Customer-to-Creator Pipeline. This signal refers to fans who make organic content about their favorite brands on the platform or UGC. Popular hashtags to try when leveraging UGC include #MustHaves and #TikTokMadeMeBuyIt.
TikTok Trend Discovery for 2023: Making Space for Joy
This Trend Force is about helping people find ways for meaningful self-care. The platform predicts a bigger focus on content that delivers humor, relaxation, and other ways that allow people to prioritize themselves. The key signals for making space for joy and related popular hashtags are below.
The Memeing of Life. This signal focuses on delivering humor. According to the report, the memes that brought people much joy in 2022 were #CornKid and #TeenageDirtbag.
Wellbeing Your Way. This signal refers to everyday strategies, life hacks, and personalized solutions that make life easier. You can optimize your well-being videos for TikTok trend discovery using the popular hashtags #InnerChild and #HotGirlWalk.
Little Luxe. This signal is about attainable rewards and indulgences. Explore the popular hashtags #TreatYourself and #UnwindWithMe for related, trending videos.
TikTok Trend Discovery for 2023: Community-built Ideals
This Trend Force highlights the importance of building relatable, supportive, and inspiring communities. The trend leverages hyper-niche interests to help users make genuine connections with peers and role models. Key signals for community-built ideals and hashtags you can try for each are as follows.
Ask TikTok. This signal refers to content that teaches audiences something interesting and inspires them to adopt new behaviors and mindsets. Explore the hashtags #EduTok and #TikTokMadeMeTryIt to see related and trending videos.
Destination: Growth. This signal is about encouraging people to achieve success on their terms. Popular hashtags you can explore and use are #GrowthMindset and #Advice.
Bestie Behavior. This signal is about creating relatable content that motivates people to follow the creator's lead. Use the popular hashtag #ShopWithMe or #ComeWithMe when creating your content for TikTok trend discovery.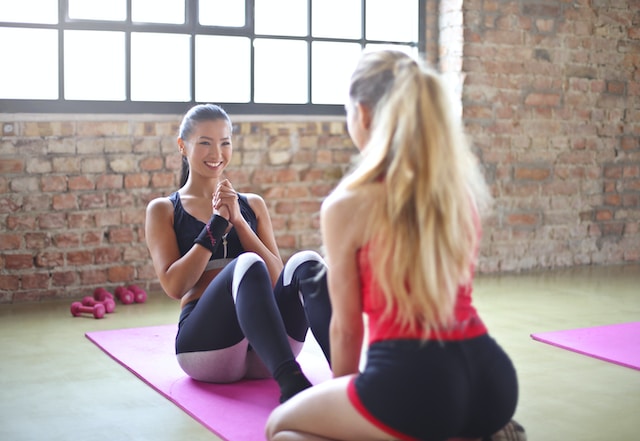 Don't Just Follow a Trend; Be the Trend
Using TikTok trend discovery tools can open doors to connect you directly with like-minded individuals or users whose preferences match your content. Jumping on a trend can make the right people notice you. It's an effective tool for building brand awareness and driving views and engagement. But trends can only take you so far. Kickstarting the next big TikTok trend or creating content with huge viral potential is the real ticket to TikTok's Hall of Fame.
You can have a winning idea, but without the right audience, your spectacular would-be craze will fizzle long before it reaches its flash point. You need a way to find users who will be genuinely interested in your content, time and time again.
With the help of a TikTok growth management company like High Social, you can fine-tune your audience-targeting capability. Leverage High Social's advanced, proprietary AI technology to identify authentic users based on their interests. This technology will give you the targeting precision you need to make sure your content reaches the right people so you can start your own trends.
High Social's social media specialists will also lend you their extensive TikTok marketing know-how to promote your content and generate maximum engagement.
Subscribe to High Social to gain organic and engaged followers month after month. Level up your TikTok game and get the exposure you need. Start growing your TikTok today!